2018 – Film HD | Couleur | 25"
Production : Imperatorem productions
Editing : Léa Troulard
Soundtrack : Meryll Ampe
©2020 Julia Borderie

December 2015 two friends and I go on a road trip from Toronto to Los Angeles. On the road in the middle of the desert, our car breaks down in Balmorhea, an American municipality in Reeves County, Texas. We were headed to Marfa to visit the Judd foundation. The head gasket of the engine exploded. Smiling, the grocery store clerk gives us Nick's phone number , the mechanic at whose house we will stay for a week while waiting for our vehicle to be repaired. A woman in her fifties with long white hair comes to pick us up and guide us to the garage. She is Nick's mother.

This film shows an immersion in an unknown environment, its limits and boundaries. The perception of a French woman on a small piece of deep America with the little she knows and what she can only fantasize. The vastness, the Cowboys, the colours of fluorescent skies, the wind mill, the disaster scenario. A feeling of déjà vu sets in. It speaks of otherness, it shows the possibility and the impossibility of witnessing others and a context through the content of the images, what is said, the silence and the rhythm. The film speaks to the development of a relationship.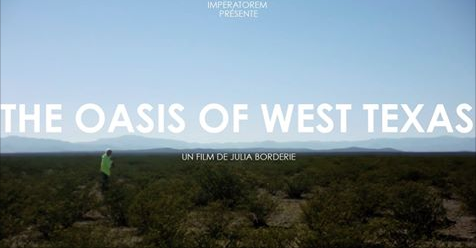 The oasis of west Texas 2018
Video hd, couleur, 25"