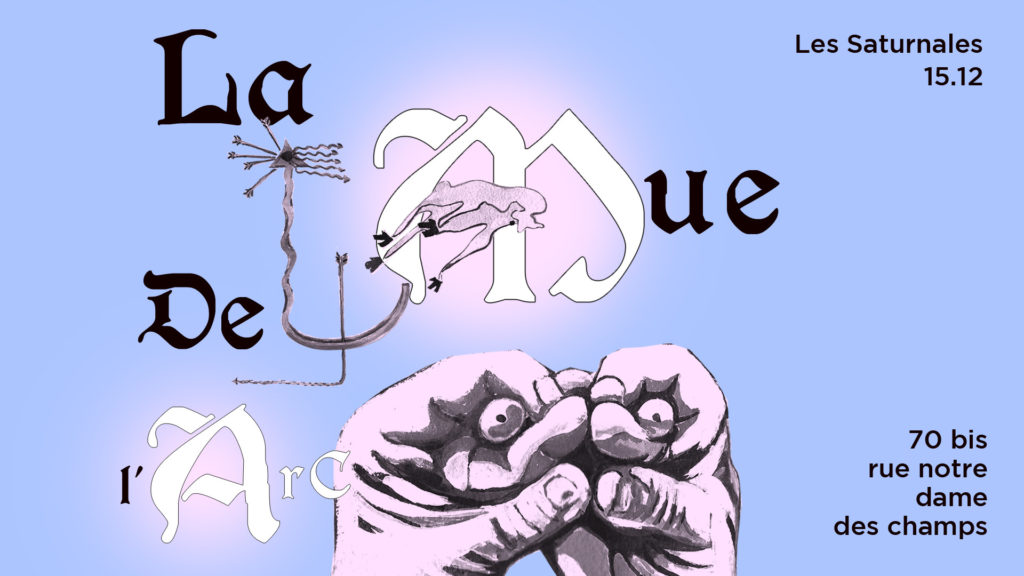 LES SATURNALES, PART 3 : LA MUE DE L'ARC
15.12 – 22.12.19
Avec : Alan Affichard, Méryll Ampe, Martin Balmand, Jeremy Bobel, Julia Borderie, Fériel Boushaki, Cécile Bouffard, Elsa Brès, Elvire Caillon, Grace Denis, Virginia Gamma, Eloïse Le Gallo, Livia Johann, Anaïs Leroy, Géraldine Longueville, Gloria Maso, François Maurin, Julie Poulain et Olivier Cyganek, Mélodie Rolin, Francesc Ruiz Abad, Julie Sas, Lise Soufflet, Lara Vallance, Victor Vaysse, Romain Vicari, Camille Zehenne, Simon Zaborski
It really is a deeper shade of green over there.
I think, replied the person's companion, that you meant to say the grass is always greener on the other side.
No, I did not. That was then, they added, this is now… and besides, grass?
Okay well, we are talking about two sides of the same coin.
I think you wanted to say two transactions on the same blockchain.
I guess so…
Well, Rome wasn't built in a day!
Was is not? No, I suppose not.
It's twilight and I need to leave soon, said the person gesturing to the window while wondering how long it would take Romans to build a high-rise, lets hurry this along, they continued, can we agree to avoid reducing our subjective coexisting life experiences to idiomatic expression?
Sure.
Some moments passed
The person asked, Do you know what the French expression for twilight is ?
Tell me.
Entre Chien et loup, they said translating quickly into English, between dog and wolf.
Is that an idiom, they demanded now quite annoyed, also it does not seem to work for when night becomes day.
I don't know, they said seemingly to no-one, it's French for twilight.
sorry they will not load in one folder.
Simon Zaborski